| | | |
| --- | --- | --- |
| | CaliforniaBaskets | |
Bancroft Books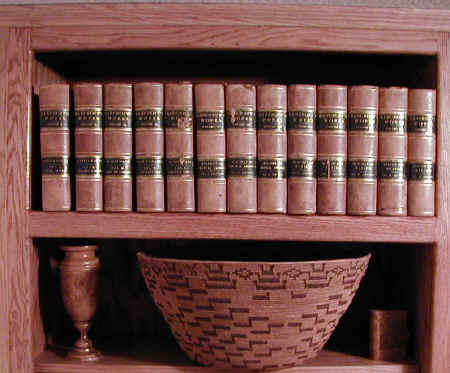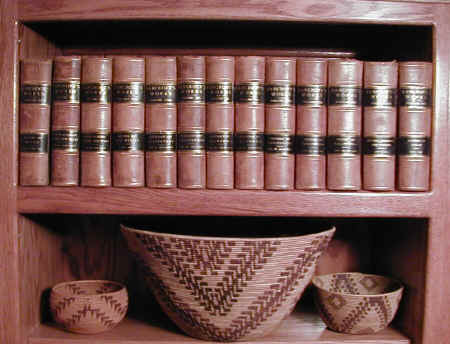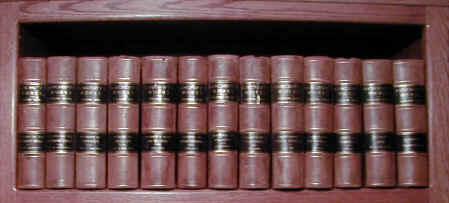 Bancroft Works -39 Volumes - Hard Bound First Edition - 1881 - Very Good Condition - $3,000
Description:
THE NATIVE RACES, VOLUMES I-V Vol. I-The Wild Tribes, 797 pp., 14.7x23.2 cm. Vol. II-Civilized Nations, 805 pp. Vol. III- Myths and Languages, 796 pp. Vol. IV-Antiquities'. 807 pp. Vol. V-Primitive History, 796 pp., includes index to first 5 volumes.
HISTORY OF CENTRAL AMERICA, VOLUMES VI-VIII Vol. I-1501-1530, 704 pp., Vol. 11-1501-1800, 766 pp. Vol. III -1801-18872 776 pp., including index to Volumes VI-VIII.
HISTORY OF MEXICO, VOLUMES IX-XIV Vol, I-1516-1521, 702 pp. Vol. II-1521-1600, 790 pp. Vol. III-1600-1803, 780 pp. Vol. IV-1804-1824, 829 pp. Vol. V1824-1861) 812 pp. The Rise of Benito Juarez at Vera Cruz. Vol. VI-1861-1887, 760 pp., index to Vols. IX-XIV. The Election of Benito Juarez, The Arrival of Ferdinand and Charlotte Maximilian in 1863. Sympathy in the United States with Juarez Government, Index to Vols. IX-XIV.
NORTH MEXICAN STATES AND TEXAS, VOLUMES XV-XVI Vol. 1-1531-1800 751 p'. Vol. II-1801-1889, 814 pp.; index to Vols. XV-XVI.
INVASION OF TEXAS BY AMERICANS, THE REPUBLIC OF TEXAS Progress and End of the War 1861-65-Pages 454-477. Reconstruction 1865-1870, pages 478-500. Pages 576-577 has short Biography of Family of Van Zandt, and mention of his son, K. M. Van Zandt, who commanded the 7th Texas Infantry at Battle of Raymond and many other Texans.
ARIZONA AND NEW MEXICO Vol. XVII-1530-1888, 829 pp., indexed. American occupation of Mexico 1846-1847; The Confederate Invasion of New Mexico 1861-1862.
CALIFORNIA History of Califomia, Vols. XVIII-XXIV. Vol. I-1542-1800, 744 pp., with a list of inhabitants of Califomia 1769-1800. Vol. II-1801-1824, 795 pp. List of Foreign Pioneers Who Came' to California Before end of 1830; Pioneer Register and Index 1542-1848. Abbott-Ewell, Vol. III-1825-1840, 792 pp. Pioneer Register and Index cont'd from Vol. II.-FabbolHyatt. Vol. IV-1840-1845, 786 pp., Pioneer Register cont'd from Vol. III-IBAlREZ-Quintona, Sutter and Cold, Fre'mont and War. Vol. V-1846-1848, 784 pp. Pioneer Register cont'd from Vol. IV, R. Zimmerman. Vol. VI-1848-1859, 787 pp. VOL. VII 1860-1890, 826 pp., Index to Vols. XVIII-XXIV. War for the Union, Railways.
NEVADA, COLORADO AND WYOMING Vol. XXV-Nevada, Colorado and Wyoming, 1540-1888, 828 pp., indexed, The Emigrants, Territorial Organizations, The Comstock Lode, Indian Wars. Vol. XXVI-History of Utah, 1540-1886, 808 pp., indexed. The Trappers, Mormanism, the Utah War. Vol. XXVII-History of the Northwest Coast. Vol. I-1543-1800, 703 pp., The Fur Trade. Vol. II_18001846, 768 pp., indexed, Lewis and Clarke, Hudsons Bay Company.
OREGON Vol. XXIX-History of Oregon. Vol. I-1834-1848, 789 pp., Williamette Cattle Co., Indian Affairs, Immigration. Vol. II -1848-1888, 808 pp., index of Vol. XXIX and XXX. Indian Affairs, Oregon in the War, 1st Oregon Cavalry, Modoc War, Railroads.
WASHINGTON, IDAHO, AND MONTANA Vol. XXXI-Washington, Idaho and Montana, 1845-1889, 836 pp., indexed, Indian Wars, Mining. BRITISH COLUMBIA Vol. XXXII-History of British Columbia 1792-1887. 792 pp., indexed. ALASKA Vol. XXXIII-History of Alaska 1730-1885. The Russians, the Fur Trade, Fisheries. Vol. XXXIV-Califomia Pastoral 1769-1848, 808 pp., indexed. Cahfomiaisms, Vol. XXXV-Califomia inter Pocula, 1848-1856, 828 pp., indexed. Vols. XXXVI-XXXVII, Popular Tribune Ads, Vol. I-749 pp. Vol. II, 772 pp., indexed. Vol. XXXVIII, 764 pp., indexed.
LITERARY INDUSTRIES Vol. XXXIX, Literary Industries, 808 pp., indexed. Bookselling, Publishing, The Library (now the Bancroft Library at Berkeley), Historical Research, the History Company and the Bancroft Company.
Bancroft, Hubed Howe, historian (May 51 1832-March 21 1918). Bom at Granville, Ohio, he worked at a relative's bookstore at Buffalo, New York, from 1848 until 1852, when he went to Califomia. He established a bookselling and publishing business at San Francisco, which came to be called The History Company, Publishers, prospered, and soon commenced gathering materials for his multi-volume history of the West,.which became the History of the Pacific States ot North America, published in 34 volumes between 1885 and 1890, with five volumes of additional material; the entire 39 volumes were also issued under the title The Works ot Hubert Howe Bancroft. Although the issues were under Bancroft"s name, he wrote but four volumes, editing much of the remainder. The others were written by as able a researcher-historian-writer body as was ever assembled, none of whom was credited in the Published works. "Although criticised for his: 'history factory,' Bancroft soon was credits with making a great contribution to American historiography." His unrivaled collection of 60,000 historical manuscripts, personal narratives, volumes and biographies was obtained in 1905 by the University of California at Berkeley where it is housed, still growing, in the Bancroft Library. "His broad approach to historical writing has rarely been equalled, and his histories were, in the main, reliable." The series, with the dates of publication of the final volumes: Northwest Coast, 2 vols. (1884); Alaska (1886); Native Races, 5 vols. (1886); British Columbia (1887); Central America, 3 vols. (1*887); Popular Tribunals, 2 vols. (1887); California Pastoral (1888); California Inter Pocula (1888); Mexico, 6 vols. (1888); Oregon, 2 vols. (1888); Arizona and New Mexico (1889); North Mexican States and Texas, 2 vols.(1889); Utah (1889); Califomia, 7 vols. (1890); Essays and Miscellany (1890); Literary Industries (1890); Nevada, Colorado and Wyoming (1890); Washington, Idaho and Montana (1890) Literature abundant.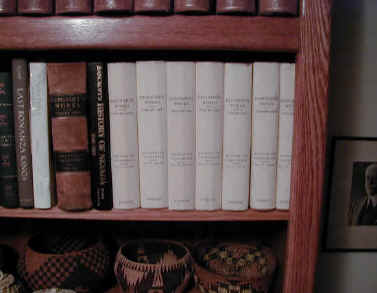 Bancroft History Of California - 7 Volumes - Hard Bound Edition $600.00
Published by Santa Barbara By Wallace Hebbard.

Reproduction of Bancroft's History of Nevada - $50.00 Nevada 1981.

Bancroft's Works - Volume 34 - California Pastoral - 1888 - First Edition $60.00.